FACTORIES
Gold Star Powders
China
Ultratec Jewelry Supplies Ltd is a sister company of Gold Star Powders UK.
It is committed to providing high-quality investment powders, with consistent performance, that meet the UK production and quality standards. Ultratec offers two investment brands to the China market:
Tecast Brand is also benefited from UK techniques, recipes and finest raw materials. It is specifically designed for the China market, and consists of TT Brass, TT Silver, TT Gold, TT Gemcast, TT Resincast, TT330(Stainless Steel) and TT530(Platinum). They are extremely easy to use and give excellent results.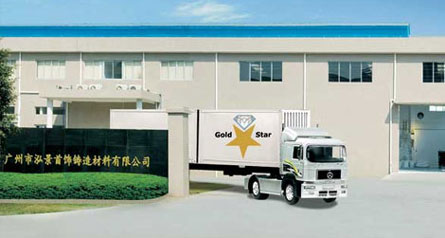 Ultratec Jewelry Supplies (Guangzhou) Ltd.
General Manager: Kevin Xie
Minli Industrial Zone
Lan He Town, Pan Yu District
Guangzhou, China, 511480
Tel: +86 20 3997 0330
Fax: +86 20 8492 1620
Email: kevinx@gs21.com.cn


Factories
| Ultratec Product | UK Equivalent Product |
| --- | --- |
| Gold Star 6 | LC Brass |
| Gold Star 21 | Gold Star XL |
| Gold Star 24 | Gold Star XXX |
| Gold Star 28 | Gold Star Gem Set |
| Gold Star Omega+ | Gold Star Omega+ |
| Gold Star HT | Gold Star HT |
| Atomic 78 | Atomic 78 |
Other Products Supplied in China:
Injection Waxes
Silicone Rubber
Natural Rubber
Vacuum Mixing Machines
De-wax and Burnout Furnaces
Wax Injectors
Casting Consumables
Vacuum Casting Machines