Glass Casting
Gold Star Crystalcast
Gold Star Crystalcast
Gold Star Crystalcast is a plaster-bonded investment powder specifically designed for casting glass. The refractory content and permeability of Crystalcast enables firing cycles to temperatures as high as 900°C for as long as 10 days depending on the mould size.
Crystalcast has been formulated with a high-technology particle size distribution ensuring that every detail of the mould is reproduced with an exceptional surface finish. Gold Star has optimised the strength of this investment powder so that it permits the casting of small or large sculptures. To find out more click the GRS logo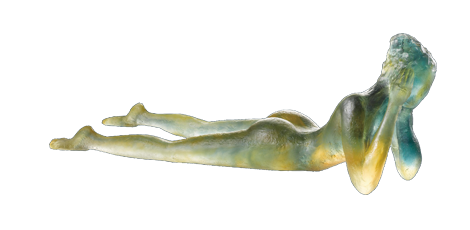 Technical Specification
Crystalcast is mixed using the same method as a standard plaster-bonded investment, with a water to powder ratio of 32:100. After the mould has cured for a minimum of three hours, the pattern is then removed by the steam de-wax process. This process can take up to 4 hours but is dependent on mould size. Care must be taken not to steam de-wax the mould for too long as it can cause damage to the mould surface.
The mould must be cooled in the furnace at a rate of no greater than 10°C per hour to ambient temperature. At this point the casting can be gently removed; never quench glass or crystal castings.