MACHINERY
CXM TEF Burnout Furnaces
The burnout process is one of the key elements in achieving good-quality castings.
The CXM TEF furnaces are both easy to operate and simple to control. They are equipped with a manual and automatic operation mode enabling parameters to be adjusted according to requirements. The unit is suitable for the wax burnout process and investment firing. An independent control box ensures longer service intervals and easy convenient movement / installation.
Easy to Use
Available in 4 different sizes to choose from(4, 18, 24 & 32)
Simple to Install
Even Heat Distribution
Programmable Interface with up to 32 Stage Heat Profiles.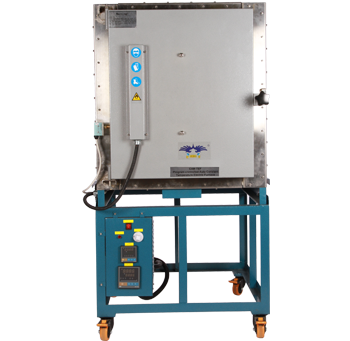 Technical Specification
Model Number
4
18
24
32
Power Supply
230V
- Single Phase
415V
- Three Phase
415V
- Three Phase
415V
- Three Phase
Power Loss
4KW
7KW
7KW
14KW
Internal Dimensions (mm)
270x
280x
280 mm
400x
400x
400 mm
570x
415x
470 mm
570x
530x
550 mm
No of Flasks
4
18
24
32
Size (mm)
580x
540x
780 mm
720x
640x
1500 mm
930x
735x
1450 mm
930x
860x
1530 mm