MACHINERY
ROTATING POLISHING MACHINES
Rotating polishing machines 9L, 18L & 36L
The VA9, VA18 & VA36 series polishing machines are widely used for de-burring, chamfering and final polishing of jewellery, Medical and General Industry.
These units replace the low efficiency traditional hand processes and allow for increased production. Available in multiple formats ranging from single barrel, double barrel and even a triple barrel unit which in turn allows for different process's to be run simultaneously (wet/ dry). The barrels are independently controlled via variable speed drives for easy speed adjustment throughout the process stages.
Made from a solid steel structure and a PU barrel the machines are both strong and reliable whilst remaining easy to use, simple to maintain and reducing any damage which may occur to the work-pieces.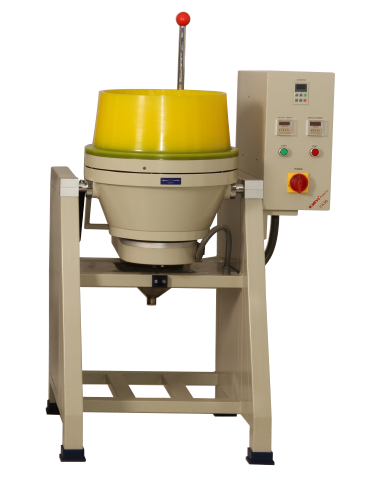 Technical Specification
Complete wet and dry grinding/polishing solution
PU machine construction
Automatic heat radiation
Recyclable water system
Low maintenance/high reliability
Vortex flow
Adjustable working speeds
| Model | Dimensions | Weight |
| --- | --- | --- |
| VA9/1 | 600 x 700 x 1180 | 100kg |
| VA9/1 | 960 x 700 x 1180 | 160kg |
| VA9/1 | 1400 x 700 x 1180 | 220kg |
| VA18/1 | 690 x 850 x 1440 | 140kg |
| VA18/1 | 1170 x 850 x 1440 | 235kg |
| VA18/1 | 1680 x 850 x 1440 | 330kg |
| VA36/1 | 880 x 780 x 1440 | 220kg |
| VA36/1 | 1480 x 780 x 1440 | 370kg |
| VA36/1 | 2120 x 780 x 1440 | 530kg |