Aerospace
Investment Powder
Aerospace Industrial Investment Powder
Goodwin Refractory Services is one of the world's largest manufacturers of Industrial Investment Powder for the Aerospace, Automotive, Rapid Prototyping and other Industrial applications.
GRS Industrial Investment Powders are used to manufacture parts for use by such world-renowned names as Boeing and Airbus from the Aerospace Industry; and Ferrari Formula One, B.M.W. Mercedes and Volkswagen Audi from the Automotive Industry. To find out more click the GRS logo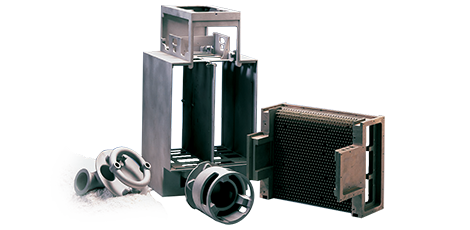 Technical Specification
M028
This is our most popular Industrial Investment and was formulated in our laboratory for the production of high accuracy, thin-walled Aluminium castings and other low temperature, non-ferrous alloys for the aerospace industry.
M456
This has been developed for thin-walled castings, in particular those containing vented channels where the inner wall integrity is vital, and the ease of removal of the investment after casting is essential; this may often be required when casting military parts, for example in the new Eurofighter aircraft.
M464
This is our latest addition to the range of industrial casting powders. M464 has been especially formulated to produce a more permeable mould which can cast at lower flask temperatures and will break away from the casting more readily.

Unable to open PDF documents? Please download Adobe Reader for free from Adobe's website.